*Napoisk

Commission Rules, Information and FAQJust a general thing that I ask anyone who is interested in commissioning me to read before doing so, and agreeing to my terms and conditions.


---


PRICES


The prices I have listed are a base price along with examples of the commission. If your commission is larger and more complex, it will cost more; likewise, if it is very small and considerably simpler than the examples I show here I will work with you to price it lower than the stated price.
To have a background added or have your art done on special patterned paper costs extra. Please let me know if you need either of these things done and I will arrange it with you.
If you would like to know why I price things the way I do, please refer to here:

NOTE 100

is equivalent to $1.00.
---


.|DIGITAL ART|.


Icons


Non-animated Icon $0.50 or 5






United States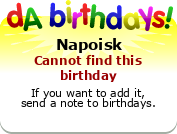 Artist | Animal Enthusiast | Absolute Bionerd | Observer |

Contact: miskus@rocketmail.com or Note me here on dA
Wysp: www.wysp.ws/coyotewuff/
FurAffinity: www.furaffinity.net/user/napoi…
Instagram: Napoisk
Skype: Iskus Mind(image is a phoenix)
kik: Napoisk
Facebook Iskus Mind

"If people knew how hard I worked to get my mastery, it wouldn't seem so wonderful at all." - Michelangelo
"The greater danger for most of us lies not in setting our aim too high and falling short; but in setting our aim too low, and achieving our mark." - Michelangelo